High-tech room air conditioning for labs
Air handling units for laboratories must be extremely reliable but also flexible such that they can be adapted to changes of use. The TROX X-CUBE air handling unit has virtually unlimited configuration options and defines high levels of flexibility, reliability and safety. The hygiene version is characterised by some additional features:
Use of damper blades that comply with closed blade leakage class 4 to EN 1751
Powder-coated attenuator splitters
Stainless steel floor panels inside
Heat recovery: run around coil system, cross flow heat exchanger
Wide selection of energy-efficient heat recovery systems such as rotary heat exchangers, plate heat exchangers and run around coil systems
Variable use.
TROX X-CUBE units are very versatile. They can be individually configured and are hence suitable for a wide spectrum of applications. More than 70 sizes are available, and they are designed for volume flow rates of 600 to 100,000 m³/h at an airflow velocity of 2 m/s. X-CUBE units are available as supply or extract air units or as a combination of both. The units can be arranged side by side or on top of each other, depending on the installation site. Thanks to lifting eyes at the top the cubes can be easily lifted and moved with a crane.


Air handling unit as 'master' of the automation level.
The TROX X-CUBE can be integrated with all air conditioning components. It determines, collects and evaluates all data for the air conditioning system with regard to its functions and the optimisation of these function and can hence be used as the control centre on the automation level. Standard protocols are used for communication. In smaller buildings, the air handling unit can actually function as a control centre.

Energy-efficient heat recovery systems.
For very demanding requirements of hygiene and safety, a high-efficiency run around coil system is used in which the supply air flow and the extract air flow are completely separate to prevent the transfer of odorous substances or germs.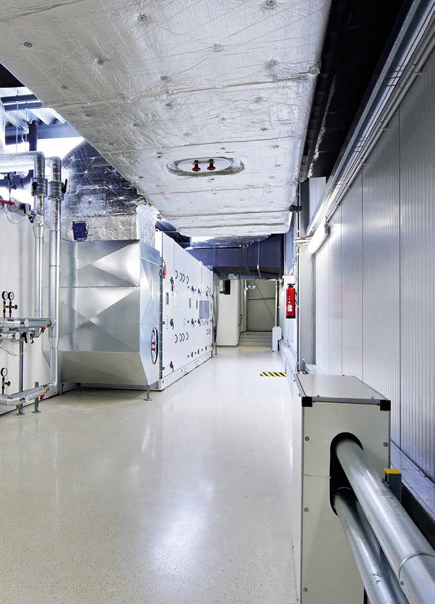 X-CUBE air handling unit
Special materials, smooth surfaces on the inside and outside due to high-quality duplex powder coating
With unlimited configuration options, allowing for project-specific adjustments
Fast and simple installation due to modular construction
Complete condensate drainage due to stainless steel condensate drip tray, sloped in all directions
Components are easily accessible for maintenance and cleaning
Construction variant with controls package is easily connected to the central BMS
High-quality TROX filters
High energy efficiency due to highly efficient heat recovery systems and fans
Also available (optional) as a weatherproof variant with drip edge and intake hood with tested rain water elimination
Hydraulic unit for high-efficiency run around coil systems
Share page
Recommend this page
Recommend this page by sending a link by mail.

Share page
Thank you for your recommendation!
Your recommendation has been sent and should arrive shortly.